IUF Values Recognition Awards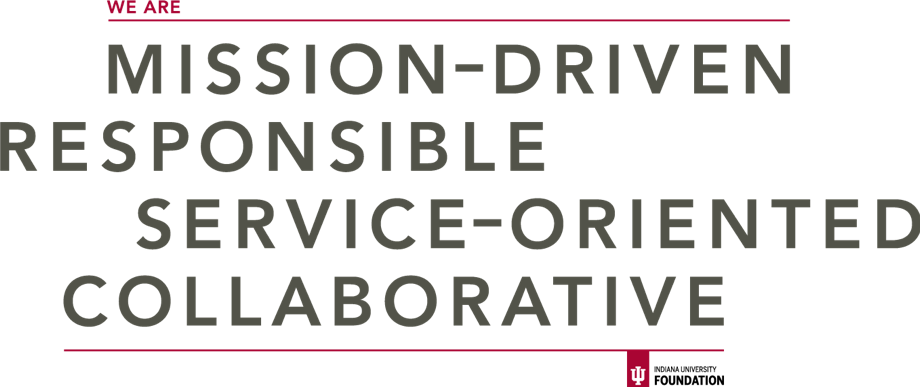 MISSION-DRIVEN
We believe in the power of philanthropy. We are motivated by our shared conviction that Indiana University advances knowledge, transforms lives, and fuels progress in communities across Indiana and around the world. We know that our work has a purpose, which brings a sense of personal and professional fulfillment.
RESPONSIBLE
We are conscientious in honoring our obligations and responsibilities to others, always mindful of the trust that is invested in us. We take personal ownership of the task at hand, and we hold ourselves accountable to the highest level of professionalism.
SERVICE-ORIENTED
We approach our work with a spirit of service, anticipating the needs of those we serve. We lead change in our fields of expertise and proactively offer innovative solutions. We focus our energies on the needs that bring the greatest value to our campus partners, IU Foundation colleagues, and donors and friends of Indiana University.
COLLABORATIVE
We share ideas willingly, knowing that the process of collaboration shapes, defines, and produces the best results.  We leverage the strengths of our colleagues and work as a team to solve problems and achieve common goals for those we serve.