BLOOMINGTON, Ind. -- On April 21, more than 6 million people shared in the IU Day experience. The fifth annual IU Day -- a 24-hour, binge-watching, social-sharing, IU-wearing celebration of all things IU -- featured an array of virtual events and celebrations, including social media challenges.
The IU spirit could be seen in cities from Bloomington, Indiana to Jakarta, Indonesia as students, faculty, alumni and friends engaged in thousands of acts of kindness to showcase how IU is a force for good. Celebrations took place in 65 countries around the world. The event's official hashtag, #IUday, trended nationally with 24,521 total likes, hearts, and retweets. More than 41,000 people engaged with IU in social media challenges, earning $20,000 for student scholarships.
IU Day offered a number of virtual videos for students, faculty and staff highlighting the IU Day Mascot games, Marching Hundred, and IU Family ensemble, to name a few. Overall, IU Day videos had more than 27,000 total views.
The day also inspired more than 4,000 gifts and counting in support of Indiana University. Throughout IU Day, in excess of $70,000 in online challenge funds were unlocked, including a $28,000 anonymous gift split evenly among the seven regional campus food pantries across the state. The campus food pantries provide food and hygiene products to students at no cost.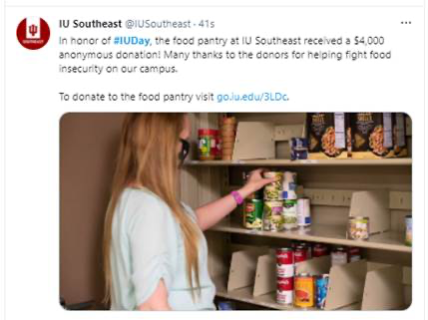 More than $64,000 in matching funds were also established through 81 crowdfunding campaigns with a wide array of projects, programs and scholarships across various areas of study – including music, theater, research, youth programs, and diversity and inclusion initiatives.
Thanks to the generosity of students, faculty, alumni and friends, the impact of IU Day continues to grow each year, leaving a lasting legacy on all seven Indiana University campuses.
Founded in 1936, the Indiana University Foundation maximizes private support for Indiana University by fostering lifelong relationships with key stakeholders and providing advancement leadership and fundraising services for campuses and units across the university. Today, the IU Foundation oversees one of the largest public university endowments in the country, with a market value in excess of $2.6 billion. IU is consistently ranked among the top four of Big Ten universities in annual voluntary support.