BLOOMINGTON, Ind. – The Indiana University Foundation (IUF) welcomes five new members to its Board of Directors: Amy Balcius, Pamela Carter, Robert Johnson, Sallie Jo Tardy Mitzell, and Cheng Wu. The IUF Board stewards and supports Indiana University's (IU) fundraising goals and serves as the legal governing body of the Foundation.
"We are honored and pleased to welcome Amy, Pamela, Robert, Sallie Jo, and Cheng to the IU Foundation Board of Directors," said IUF President and CEO J T. Forbes. "They each have distinct expertise and experiences that will advance the board's mission to secure a strong and lasting future for IU. I look forward to working with each of them."
Amy Balcius
Amy Carroll Balcius grew up in Indianapolis, Indiana and attended IU, where she earned bachelor's degrees in journalism and English literature with an education certification. As a student, she was involved with numerous societies and organizations, including membership in the Alpha Phi sorority and service as a resident assistant at Collins Living Learning Center. Balcius was also on the Board of Aeons and was a recipient of the Parker-Powell Student Activism Award. One of her most formative experiences as a student was being a founding member of the IU Dance Marathon (IUDM) in 1991. She was on the IUDM Executive Council for three years, and then served as president. Today, IUDM is the second-largest student-run philanthropic fundraiser in the world and has raised over $50 million for Riley Hospital for Children in Indianapolis.
After graduation, Balcius followed her passion for volunteerism serving in the US Peace Corps in Lithuania as a high school teacher, teacher trainer, consultant to the Lithuanian Ministry of Education, and Peace Corps volunteer coordinator for Lithuania.
Balcius retired in 2021 as a managing director at PriceWaterhouseCoopers. She is currently chair-elect of the IU Foundation's Women's Philanthropy Leadership Council and serves on the Board of Governors for Riley Hospital for Children and the Board of Visitors for the Lilly Family School of Philanthropy in Indianapolis. She is also president of the IU Society of Aeons and is co-chair of the Colloquium for Women of IU Steering Committee.
Pamela Carter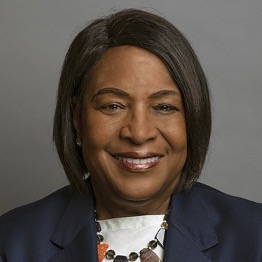 Pamela Carter serves as chair of the board of Enbridge Inc., board member and audit chair of Broadridge Financial Services, board member and human resources and compensation chair at Hewlett Packard Enterprise, and chair of the Nashville Symphony.
Carter served as the attorney general for the State of Indiana from 1993 to 1997 and was the first African American woman elected state attorney general in the United States. During her tenure, Carter worked to represent the citizens, winning more cases in the United States Supreme Court than any other attorney general in the country. She also argued and won a federal appeals court case to protect Indiana's Rape Shield Law.
Prior to serving Indiana as attorney general, Carter was deputy chief of staff and executive assistant for health policy and human services for former Indiana Governor Evan Bayh.
After leaving public office, Carter became the vice president, general counsel, and corporate secretary for Cummins Inc., where she worked to resolve the diesel emissions federal lawsuit against engine manufacturers. She transitioned to the business side of the company as vice president, general manager of the Europe, Middle East, and Africa region, which was headquartered in Belgium. After returning to the U.S., she became vice president and president of Cummins Filtration and was the president of Cummins Distribution business from 2008 to 2015.
Carter holds a bachelor's degree from the University of Detroit-Mercy, a master's in social work from the University of Michigan, and a Juris Doctor degree from IU's McKinney School of Law. She also completed the Harvard Kennedy School of Government in Public Administration Program for senior executives.
She has been awarded several honors from IU. In 1999, she received an honorary Doctor of Laws degree from IU Kokomo. Carter also holds the McKinney School of Law Distinguished Alumni Award, the Bicentennial Medal, and the Distinguished Alumni Service Award. Currently, she serves on the IU McKinney Board of Visitors and was named Outstanding Alumna of the Year in 2004.
Robert Johnson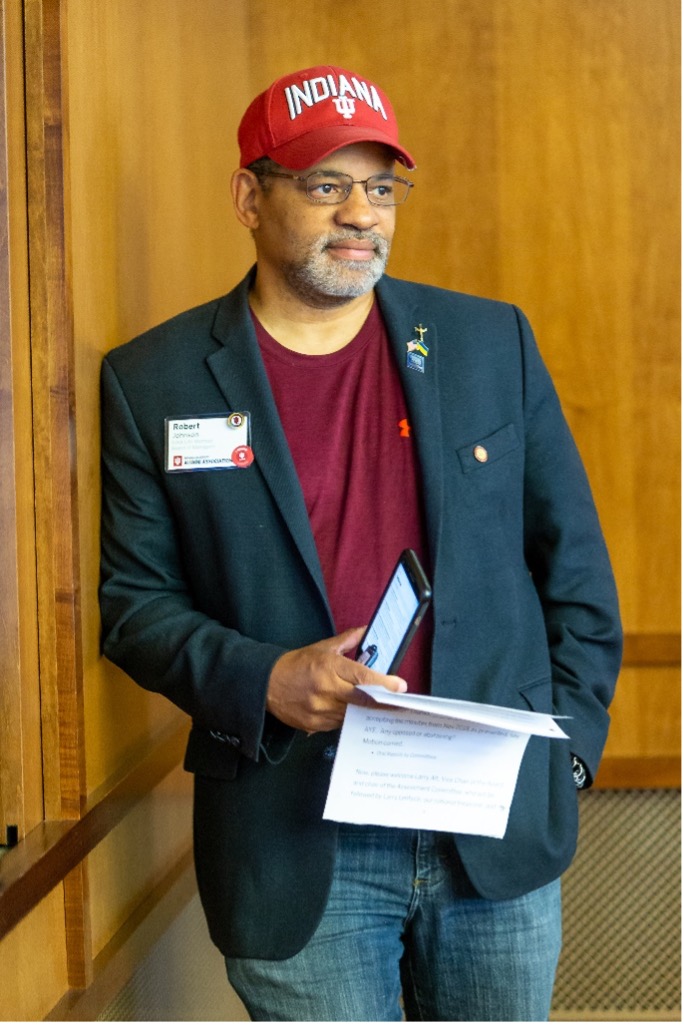 Robert N. Johnson graduated from IU with a bachelor's degree in economics & geography. He has cultivated a career in the corporate world and public service sector for over three decades.
Upon graduation, Johnson worked for two years at Procter & Gamble Co. before joining Kraft Foods where he served for 25 years in various leadership and management roles including customer vice president for sales, national accounts. During his career at Kraft Foods, Johnson served in 14 positions, had four headquarter assignments, and earned 25 awards. Today, his ACommon1 Connectivity LLC focuses on strategic small business and philanthropic initiatives. He currently serves on the Smithsonian Institution Center for Folklife & Culture's Advisory Board.
A few years after graduating, Johnson joined the IU College of Arts and Sciences Alumni Board and later became a charter member of the International Studies Program's External Advisory Council. The council worked with faculty and internal partners to create enriching experiences for students in and outside the classroom. Other service to IU has included terms with the IU Alumni Association's Board of Managers as a member, vice chair and chair, the International Studies Program External Advisory Council, and the College of Arts & Sciences Dean's Alumni Board. Johnson serves as a charter member of the Hamilton Lugar Global & International Studies Dean's Advisory Board and has endowed undergraduate scholarships in the Geography and Economic Departments. He is also a founding member of the IU Foundation's Black Philanthropy Circle.
Johnson is passionate about creating rich international experiences for the IU community. As a result, he has worked with IU and the IU Alumni Association serving as an alumni ambassador and speaker, helping with international student recruitment efforts, and creating connections to advance intercultural understanding and appreciation.
Sallie Jo Tardy Mitzell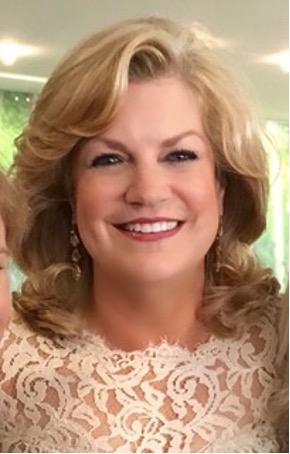 After receiving her bachelor's and master's degrees from IU in speech and hearing sciences, Sallie Jo Tardy Mitzell worked at the Methodist Hospital Neurosensory Center in Houston, Texas, specializing in the treatment and therapies of laryngeal cancer.
Upon returning to Indianapolis, Indiana, she began her philanthropic connection to IU. As the immediate past chair of the IU Foundation's Women's Philanthropy Leadership Council, Mitzell also serves on several IU boards, including past president of the College of Arts and Sciences Alumni Board, and past president of the IU Student Foundation Board of Associates. She is also a member of the College of Arts and Sciences Executive Dean's Advisory Board.
She gives her time as co-chair of the Colloquium for Women of IU Scholarship Fund and was past chair of the Student Foundation Regional Division Committee during IU's Bicentennial Capital Campaign. She is a member of the Colloquium for Women of IU Steering Committee, serving as a co-chair in 2008. She is also a founding member of the Queer Philanthropy Circle and serves as chair of their Advocacy and Community Investments committee.
Committed to local and community engagement, fundraising and stewardship, Mitzell currently is the development chair on The Patachou Foundation Board of Directors in Indianapolis and serves as the development chair for The Indianapolis Orchard School Board of Trustees. In 2019, Mitzell was awarded Indiana University's Bicentennial Medal in recognition of her distinguished contributions and service.
Cheng Wu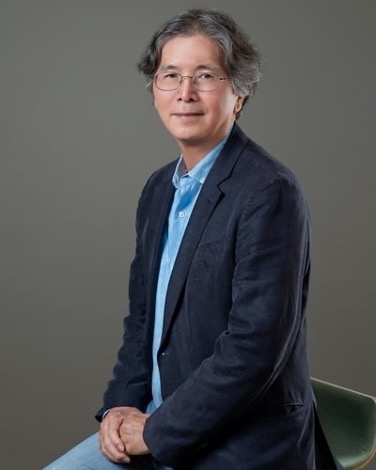 Cheng Wu graduated with a bachelor's degree in electrical engineering from ChiaoTung University, Taiwan, and earned a master's degree in computer science from IU.
He is a successful entrepreneur and well-acclaimed industry veteran, having founded and led numerous businesses representing a variety of industries.
Wu's entrepreneurship began in 1995 when he founded Arris Networks in Massachusetts, a company specializing in the developed of high-density Internet access products that was acquired by Cascade Communications.
In 1997 he founded ArrowPoint Communications and served as chief executive officer. Wu then joined Cisco Systems in 2000 when Cisco acquired ArrowPoint and served in various executive positions, including group vice president and general manager of content and multiservice Edge Group. He continued his passion for entrepreneurship and business and founded Acopia Networks and Azuki Systems in 2002.  
Wu serves on IU's Luddy School of Informatics Computing, and Engineering Dean's Advisory Council and the Computing, and Engineering Shoemaker Innovation Center Advisory Board.